Traveling solo is an amazing opportunity that everyone should experience. And while it can seem intimidating at first to think of going alone, it gets easier each time.
You'll quickly find out that traveling alone brings a certain sort of liberating freedom. You can do exactly what you want, when you want. You can plan your perfect trip without compromising, make your own dream itinerary and change it at the drop of a hat if you feel like it.
So, what are you waiting for?
Whether you've traveled alone before or not, here are some of the best cities to visit in your solo travels.
Tokyo, Japan
You'll never find another city like Tokyo. Visiting this city is a completely unique experience that is a must for any traveler. It's also one of the safest cities in the world, so it's great for solo travelers.
You should obviously visit the exquisite temples and indulge in the multitude of delicious restaurants. But where else could you visit the Robot Restaurant (which is actually a show), check out the magical Studio Ghibli Museum or hang around an owl café?
Lisbon, Portugal
Lisbon is easy to get around, with most of the city's main attractions within walking distance of each other. Tour the imposing Sao Jorge Castle, take in 5 centuries of decorative tile at the National Azulejo Museum and stuff yourself full of pastéis de nata.
If you're anxious about traveling solo, you will be happy to know that Portugal is considered the third-safest country in the world, according to the Global Peace Index. And if you're on a budget, it's worth mentioning that Lisbon is a relatively inexpensive city.
Bangkok, Thailand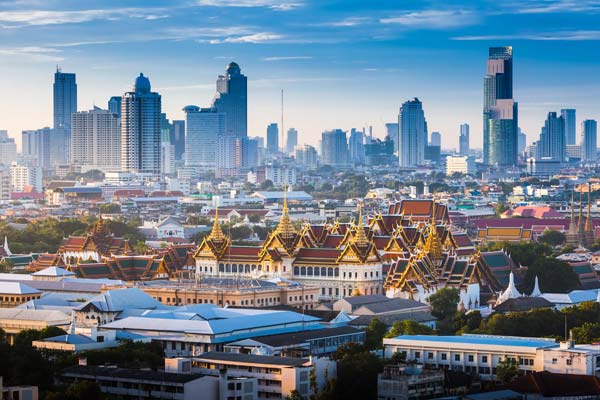 Known for both ornate shrines and vibrant street life, this fascinating city is visited by millions of travelers each year.
Wander around over 8,000 stalls at Chatuchak Market, one of the largest markets in the world. Visit the incredible temple, Wat Arun, situated on the bank of the Chao Phraya River. Chow down on infamous Thai street food from vendors serving tourists and locals alike. Or get wild exploring Bangkok's nightlife scene!
Prague, Czech Republic
Dubbed the "Paris of the East," this beautiful city is known for its unique medieval architecture, cobblestone streets, and impressive towers and church spires reaching into the sky. Wandering the Old town Square, the heart of its historic core, is like a trip back in time.
However, don't let the old world charm fool you–Prague is also a modern, vibrant city full of fine dining, music and cultural art.
Bali, Indonesia
This island is packed with things to do. Between the beaches, waterfalls, rainforests, local culture, history, temples, cuisine and nightlife, there's literally something for everyone.
With a wide range of accommodations, from hostels to resorts, there are housing options for all kinds of travelers and budgets. Just make sure you research the main regions of the island before booking. Where you stay is dependent on if you're looking for luxury, tranquility and relaxation, thrilling water sports or wild nightlife.